On July 14, 2018, XCMG Group officially delivered the first batch of six sets of mining equipment to a local mining company in South Africa, marking the formal entry of XCMG large-scale mining products into the local mining market in South Africa.


On the day of the delivery ceremony, against the background of blue sky and white clouds, the shining "XCMG gold" of XCMG large-scale mining equipment is very eye-catching. XCMG's South African National Manager Wang Yong handed over the "golden key" to the relevant head of a mining company, which symbolizes win-win cooperation.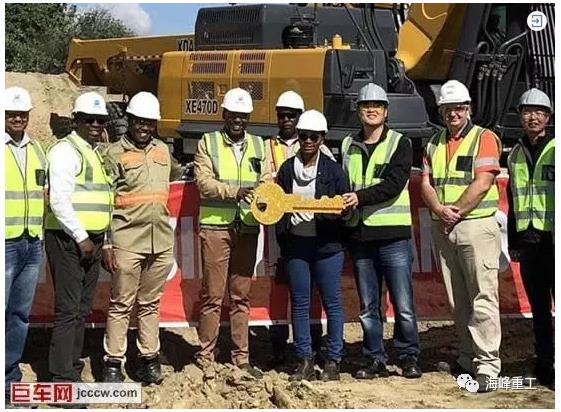 It is understood that the first batch of mining equipment delivered involves three XDA40 mining hinge, one XE470D excavator, one GR2405 mining grader, and one of China's largest tonnage loader LW1200KN. The two sides will continue to expand cooperation.

Let foreigners thumb their thumbs up.

XCMG products arrived at the scene, according to the relevant procedures, in cooperation with customers for PDI inspection, but also need to carry out more stringent third-party inspection. When the third party inspection company accepts the XCMG mining hinge, it happens to be in the local torrential rain, XCMG mining hinge stuck in the muddy steep road for many round-trip tests, its excellent product performance is at a glance.